All products of the L-DCS Technology are made entirely of polypropylene (PP) and can therefore to a large extent be recycled. All system housings are available for both indoor as well as for outdoor installation.
Dehumidification
L-DCS offer the latest generation of dehumidification systems based on open sorption processes. They consist of:
the actual dryer unit,
the absorber,
a regenerator for the preparation of the salt solution (sorbent) and optionally
an evaporative cooler as reflux cooling component for dissipating the heat released in the absorber during dehumidification.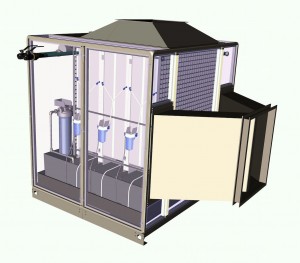 Depending on your fresh air requirement we individually size your L-DCS system in steps of 2000m3 air/h.
The supply of saline can be done from a sorbent storage tank. Due to the L-DCS low-flow© technology it can also be used as energy storage unit with a power density of up to 280kWh / m3. The clever design of the storage module allows also lossfree energy storage and transport of dehumidification energy.
Ideally, these devices are combined with a corresponding L-DCS evaporative cooler to a high-end dehumidification system. It is easily possible to adapt the configuration to local needs. If permitted by the local climate, instead of the evaporative cooler also an existing cooling tower, or alternative cooling sources such as well water, can be integrated directly for harvesting the cooling energy.